Our Mission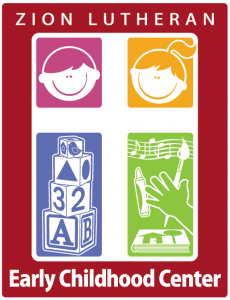 Zion Lutheran Early Childhood Center was established in 1969 (as Zion Lutheran Nursery School) to provide families with preschool children a place where the child could be part of a program designed to help him/her grow socially, intellectually and creatively in a Christian atmosphere. This preschool program has grown and developed over the years to become one that is highly regarded by parents who have had children enrolled, and also by the community. Our school is licensed by the state of New Jersey and is staffed by certified teachers and qualified assistants.
The goals of Zion Lutheran Early Childhood Center are for the child to develop and grow in five major areas:
SPIRITUAL    INTELLECTUAL    PHYSICAL    EMOTIONAL    SOCIAL
Classes
LEARN, CREATE, PLAY, GROW
Zion Lutheran Early Childhood Center offers classes for both 3 and 4 year olds. A 2-1/2 year old class was added in 2010. Each class is staffed with one teacher and one assistant teacher.
The program at Zion Lutheran Early Childhood Center is designed to help each child come to a greater awareness of the world and the people around them. Activities are planned to include language development, mathematical concepts, social studies and science concepts, art, music and motor and visual coordination.
All our classrooms are air conditioned. In addition to our regular classrooms we offer a Building and Climbing Classroom and a Sensory and Exploration Classroom.
What follows is an outline and brief explanation of what your child may experience in a typical day at Zion Lutheran Early Childhood Center.  At Zion, we feel that we are more than a "play-school."  We consider Zion a "preschool" and have developed our entire program with that fact in mind, that our children will be moving on to the elementary school level in a short time.  It is our desire to provide children with the experiences necessary to prepare them in all areas for their continued education.